Founded in 1989, Usability Sciences is one of Texas's most experienced user experience research firms. For more than three decades, we've helped a range of companies, including some of the most renowned Fortune 100 brands, with everything from ethnographic research to usability testing.
We've adapted our approach over time to suit the ever-changing world of modern technology. Still, one thing that has never changed is our commitment to meeting client needs and providing the highest levels of service in everything we do. But there's no need to take our word for it. Instead, you might find it interesting to read honest opinions from people we've worked with.
So, in this post, we'll be looking at a recent review we received on Clutch. If you're unfamiliar with Clutch, it's a B2B ratings and reviews platform based in Washington, DC. They evaluate technology service and solutions companies based on the quality of work, thought leadership, and client reviews.
Five Stars Across the Board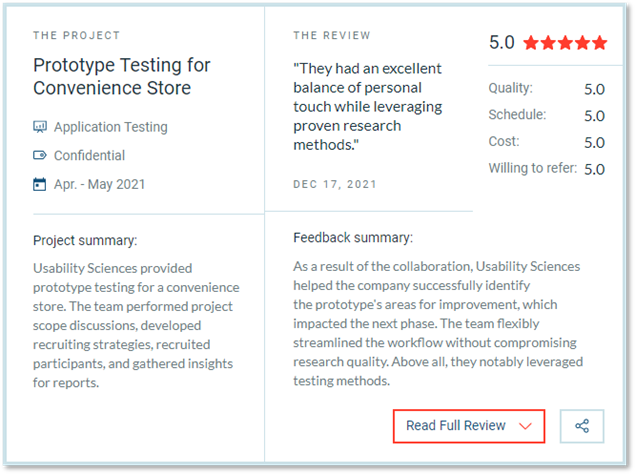 This Clutch review was written by one of our latest clients, a convenience store looking for assistance with prototype testing. They'd developed a prototype and needed to gauge customer and associate reactions to it. 
We started by holding a scoping session to understand the company's objectives and timelines before developing discussion guides and recruiting strategies for the client. 
From there, we recruited participants and conducted on-site prototype testing sessions, collected feedback, and shared the findings with our client. The information we provided directly impacted the next stage of the prototype's development.
"Good workflow. The team was flexible when needed, without compromising the research (the right feedback from the right users, on time).
They had an outstanding balance of personal touch/customization while leveraging proven research methods." - Brand & Customer Insights Director, Convenience Store
It's always rewarding to receive positive feedback for our work, and reviews like this help motivate us to continue working hard and upholding the high standards that our agency is known for.
So, if you're looking to work with a trusted and experienced brand for your user research needs, Usability Sciences is waiting to hear from you. Contact us today to discuss your project and find out what we can do for you.